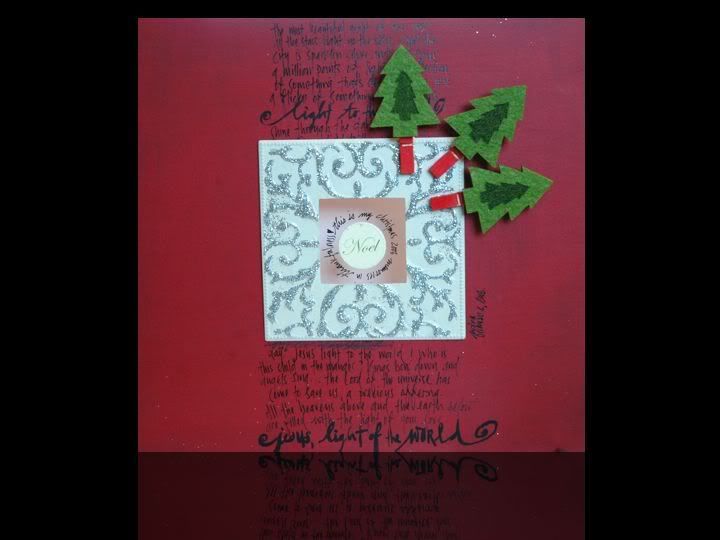 i am getting excited for Christmas!!! Since i read
Choo Thomas' book Heaven is so real
, i realized it's special for Jesus too. So i decided that i am going to make a christmas journal for this month. here is my album cover. i used a
Making memories album
and painted it christmas RED and wrote
these lyrics
on it (after i downlo
aded the whole ALBUM from
iTunes
!!). The
metal frame
is also from Making Memories (i just added some of their
AMAZING glitter
) and the cute christmas trees are from a shop called Stonewater in canmore. (i got something beautiful there for our house art-wise, but i will show you that later). i decided that
third-day's christmas album
will be the main inspiration for my journal. wow, that was a mouthful!-----------> in the same christmas spirit, like i wrote yesterday, i did a little project for the
making memories blog.
go and have a look and please leave a comment there to make me feel good. (!!)
ha-ha. you see, i love this book
His needs, Her needs
by
Harley Jr., Willard F.
in the book he talks about the fact that a man's
second
greatest need is recreational companionship. it was in that spirit that i went up the mountain to ski with jaku as he is such a fitness freak. actually he is THE perfect advertisement for a doctor!! (and he is
so
sexy!) so, i am all smiles riding this condola up and up and up into the mountains of canada. on our first run we went up the green slope called strawberry. and i kid you not... i almost
fainted
looking down to where i am about to ski. recreation companionship? yea right. off i went. i did fine, skiing left and right, and about 500m from the lodge i just picked up speed and couldn't stop and so i fell. avalanche on mountain? no, just wilna. ha-ha. another Australian guy with a snowboard also saw his future at the same spot. we laid in the snow and laughed at each other...asking if the other was ok? telling the other that we couldn't ski. the best part of falling? every part of my body and FACE was covered so NO ONE knew what this idiot look like!! ha-ha. the problem was when i got up and i realized that my left leg couldn't carry my weight. so, to make a long story short, i got a free snowmobile ride down to their ER room, got pampered with an ice pack and now i am walking with crutches. jaku says that i tore a muscle in my knee. you know what this lesson taught me? go to the gym, get fit. i have been putting it off for 18 months. but now i realise that my body is not getting younger. so i have to get fitter!! whhaaaaaaaaa! i am going to ski double diamond!! just not at THIS moment!! in the end i skied the RED run. the red cross run!! i am fine. the part that hurts the most is my pride!
back to Christmas!
The Nativity story
opened yesterday and i want to see it this weekend! so, my question to YOU is, will you join me in making a christmas journal? i will post my page everyday. LET ME KNOW!! oh, and the last few post cards will be going out tomorrow. The offer is now closed! : ) most of them i posted already!
the winner of the little note book is....
ROXANNE!
(i have your address girl!)
love and a kiss
Wilna
x