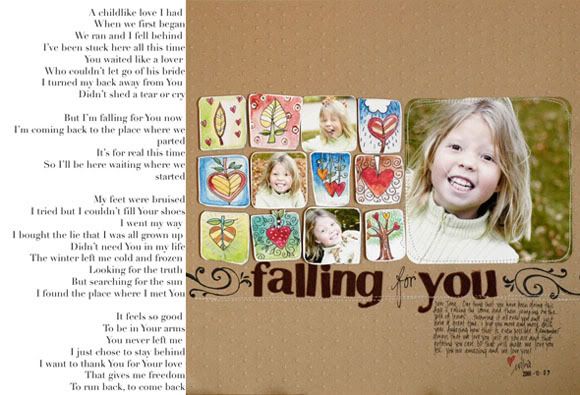 Today's "homework" for the bling-your-blog class is to create something using lyrics as inspiration. I searched high and low for this song Falling for you to play it to you but I just couldn't find it online. It's by
Leeland
and it b.e.a.u.t.i.f.u.l. There is a chance that my fall hearts will be up for sale at scrap in style... we are still working on it.
If you would like a PDF file with these heart+leaves, leave me a comment and I will draw a name tomorrow to email them to.
A thought for today: I was reading Isa 53 last night and it really impressed on my heart.
Isa 53

(Message)

One look at him and people turned away. We looked down on him, thought he was scum. But the fact is, it was our pains he carried— our disfigurements, all the things wrong with us. We thought he brought it on himself, that God was punishing him for his own failures. But it was our sins that did that to him, that ripped and tore and crushed him—our sins! He took the punishment, and that made us whole. Through his bruises we get healed.
Love