I visited
Simply me's
blog today and came across this cool
picture editing
site.
I made a quick snap shot over there. This is me. On top of the world.
: )
I did some more internet shopping this morning... bought
2 of these books
for gifts for 2 guys. I read it and it's amazing.
Something else I did was make a digital page from one of Ali's templates. I took 25 pictures around the house and made the page. I love her templates.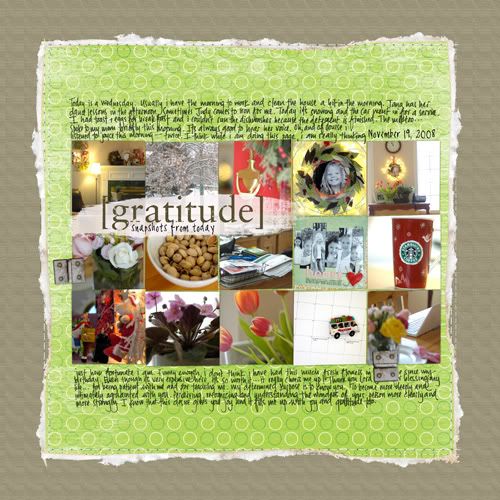 Credits:
Template:
Ali Edwards
, Green paper:
Jesse Edwards
, Paint strip:
Katie Pertiet
, Brown background: Created in PSE7, Stitches: Lisa Whitney (
but these will work too
) Torn paper edges:
Anna Aspen.

Interesting enough, only when I saw this page next to yesterday's page in the photobucket gallery, did I see the resemblances. Amazing how our subconscious works!
Talk tomorrow!
Wilna
x