I am such a nerd. I love to organize my workspace and organizing my computer files is no different. I want to share with you today how I organize my digital files as it can become a pain sometimes. You know you bought pink and brown papers once but how and where to find them is a headache. Well, this is my system and it totally works for me.
1. I created a folder on my external hard drive for Digital stuff. I named mine A Digital then it shows up right at the top...(i keep my folders organized alphabetical according to name)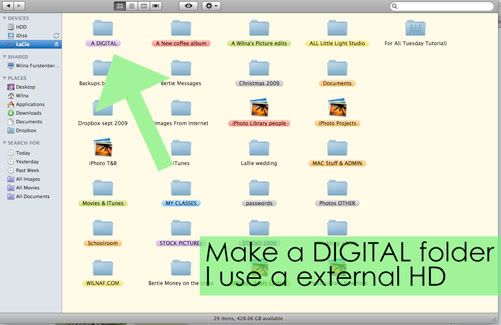 2. Now, in that Digital folder, I have a folder for every digital designer. Again, it's just my preference. It makes it easy for me to just drag the new kit from Rhonna into her folder. After a while you will have your favorite designers (just like paper manufacturers).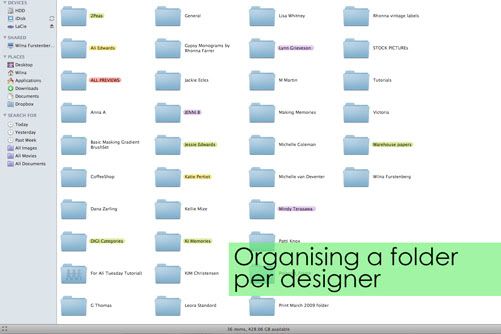 3. Now for the fun part: Drag the preview image (usually a jpeg) from every kit/papers/elements you buy into a
preview
folder. If you havent done this yet, it will take you some time. If you are just starting digital scrapbooking, I recommend you do this from the beginning.
I use this folder A LOT!
when I am looking for colors and or embellishments etc, i go to this folder and look for what I want to use. Now, after I selected what i want to use, i know exactly where to find it as it's in the designer's folder. This preview folder is also organized alphabetically so, mostly the designer's stuff is all together.
You can even go more geek than I did... by making a preview folder for papers and one for elements / templates / quick pages etc.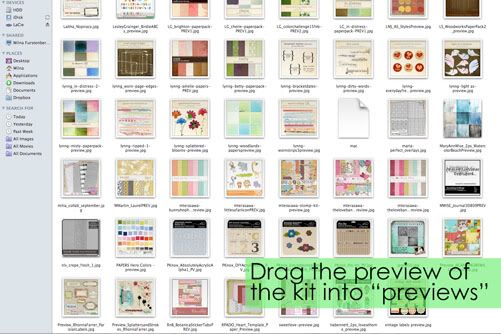 So, to conclude,
when I buy a new kit I
:
* Download it.
* Drag the whole folder into the designer's folder.
* Copy the preview image and paste it into my preview folder.
Remember to back up your digital folder from time to time. I have a mirror external HD for my external HD. I warned you: I am such a nerd. Any way, if you have questions, please leave me a comment and I can explain more.

2 Cor 3: 16-18
Whenever, though, they turn to face God as Moses did, God removes the veil and there they are—face-to-face! They suddenly recognize that God is a living, personal presence, not a piece of chiseled stone. And when God is personally present, a living Spirit, that old, constricting legislation is recognized as obsolete. We're free of it! All of us! Nothing between us and God, our faces shining with the brightness of his face. And so we are transfigured much like the Messiah, our lives gradually becoming brighter and more beautiful as God enters our lives and we become like him.
Smiles