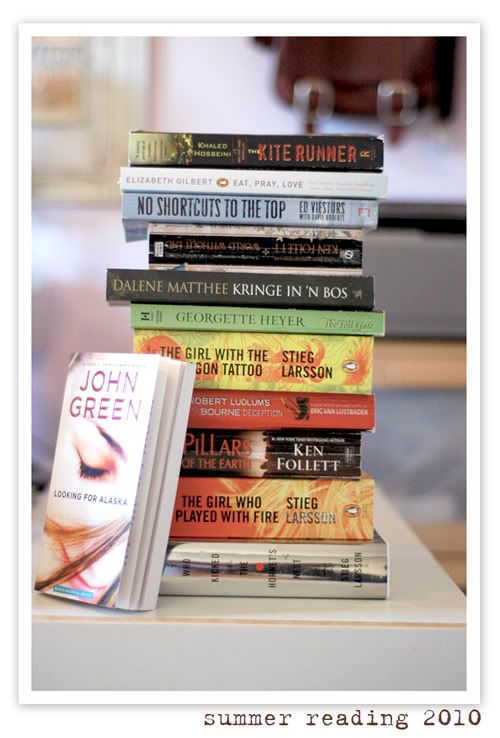 We are having beautiful warm fall days. The sun is shining almost like it knows it's rays wont reach us for the next 6 months. Thank you son, i appreciate it. School is going great. This year I started with goals for every quarter and the girls are up for the task. I think they are actually ahead right now.... but i won't tell them that! : )
This is a picture of the stack of books i read this summer. I enjoyed some more than other. Ken Follett's World without end is basically a copy of
the pillars of the earth,
but not nearly as intriguing.
Eat, Pray, Love
is my favorite book from this stack. Literary wise, no book could compare to Kringe in 'n Bos. There is an engish version of the book too...
Circles in a forest
.
I had a love/hate relationship with the
Stieg Larsson books
... there were parts that i just.couldnt.didn't want to.read. But in my next life i want to have the hacking capabilities of Lisbeth Salander... that was my favorite parts of the books. I guess the fact that i read all 3 meant that i loved them more than hated them. : )
I wrote about
No shortcuts to the top
here
. I loved Khaled Hosseini's
The kite runner
, but i loved a
thousand splended suns more
.
Right now i am reading John Green's book Looking for Alaska. I am such a huge vlogbrother fan, that i caved in and decided to read his books. I am still waiting to be impressed. If and when that happens i will blog about it! for those who don't know
the Vlogbrothers
... this is my
favorite John Green video
. and
this one
is also funny.
This morning i have a coffee date with a friend. My house is a mess. I am still in my PJ's. But that's going to change as soon as i hit "publish post".
Oh and the winner of the digital it is: Sandra who posted at 12:55pm. Please email me and I will get the kits to you!
Psalm 25: From now on every road you travel
Will take you to

God

.
Follow the Covenant signs;
Read the charted directions. love and a kiss